Main Menu
Office hours: 9:00 am-9:00 pm, TEL: +81(0)772-22-2171
Reservations by Internet
Use this link for direct reservation access, for your best value and complete information.
Genmyoan Cafe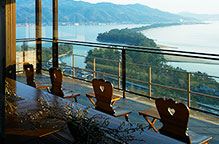 With our matchless view, what better place for a steaming, well-brewed cup of coffee or tea? ¥500 a cup -- call ahead please
Guest Rooms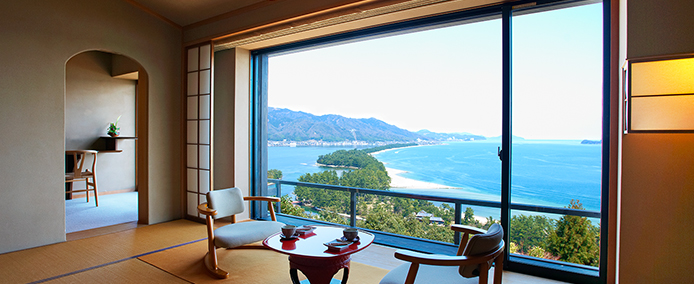 Genmyoan has 17 guest rooms, each different, ready for your selection. Fourteen rooms have a view of Amanohashidate land bridge, and 3 look onto Miyazu Bay and the town of Miyazu. All rooms have sweeping, panorama views that encompass the sea, the sky, the coast, and the mountains. Large, low-positioned picture windows in every room give you the grand view, wherever you sit. Most rooms owe their design to the esteemed architect Tatsuo Mori (1926-2011), who infused the beauty of traditional Japanese domestic architecture with a sophisticated modern sensibility. Come and experience it for yourself!
Guide to the guest rooms

All the Rooms at a Glance
Room View
Room Bath
Room Size,
in Tatami Mats
Adjoining Space
Kuse
Land Bridge
Standard Bath
12 mats
Western Style
Horai
Land Bridge
Standard Bath
12 mats
Western Style
Tsuki
Land Bridge
Land Bridge View Semi-Open-Air Bath
15 mats
3 mats
Ichiji
Land Bridge
Land Bridge View Semi-Open-Air Bath
12 mats
Entry
Katsuga
Land Bridge
Land Bridge View Semi-Open-Air Bath
12 mats
Entry
Fukuroku
Land Bridge
Land Bridge View Bath
15 mats
Entry
Juseki
Land Bridge
Land Bridge View Bath
12 mats
Entry
Kiku
Land Bridge
Standard Bath
12.5 mats
4.5 mats
Yayoi
Land Bridge
Standard Bath
12.5 mats
4.5 mats
Nyoi
Land Bridge
Land Bridge View Open-Air Bath
83 ㎡
Western Style
Chigusa
Land Bridge
Standard Bath
11 mats
Entry
Ayame
Land Bridge
Standard Bath
11 mats
Entry
Mutsuki
Land Bridge
Shower
12 mats
Entry
Kongo
Miyazu Bay
Bay View Open-Air Bath

143 ㎡

Western Style
Chitose
Miyazu Bay
Bay View Semi-Open-Air Bath
10 mats
3 mats